Western forbs: Biology, ecology, and use in restoration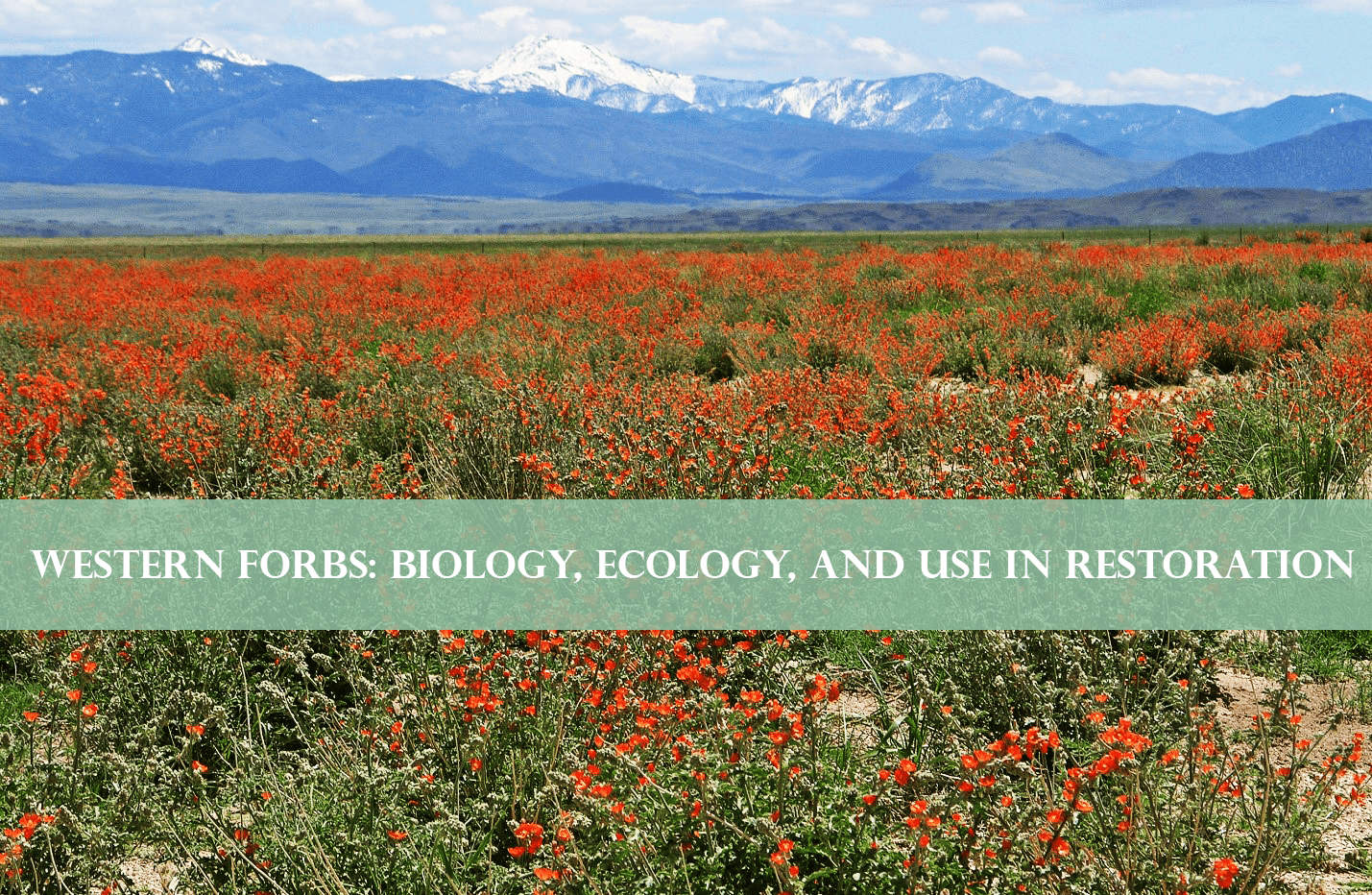 Western Forbs: Biology, Ecology, and Use in Restoration
Forbs (wildflowers) are essential components of resilient, biologically and functionally diverse communities, but their use in restoration and rehabilitation in the Intermountain West remains limited. This online book, Western Forbs: Biology, Ecology, and Use in Restoration, synthesizes all existing research and practical experience gained over the last 20 years. It is designed to aid seed collectors, seed growers, nurserymen, landowners, restoration practitioners, and land managers as they increase the supply and use of native forbs. Each chapter features an individual species' biology, ecology, seed technology, and use in restoration based on literature and data available at the time of publication. Taxonomic treatments for species follow the Flora of North America (FNA). For those species not yet treated by FNA, nomenclature follows the US Department of Agriculture, Natural Resources Conservation Service PLANTS database, which uses the Integrated Taxonomic Information System (ITIS) and other species-specific taxonomic sources. This book is funded primarily by the Bureau of Land Management (BLM) with additional support from the US Forest Service, Rocky Mountain Research Station and the Great Basin Fire Science Exchange.
Project Overview and Acknowledgements
Completed Book Chapters (download and open with Adobe Reader for best printing)-
Nettleleaf giant hyssop (Agastache urticifolia)
Orange agoseris (Agoseris aurantiaca)
Annual agoseris (Agoseris heterophylla)
Arrowleaf balsamroot (Balsamorhiza sagittata)
Douglas' dustymaiden (Chaenactis douglasii)
Tapertip hawksbeard (Crepis acuminata)
Limestone hawksbeard (Crepis intermedia)
Blue Mountain (western) prairie clover (Dalea ornata)
Searls' prairie clover (Dalea searlsiae)
Hoary tansyaster (Dieteria [Machaeranthera] cansecens)
Nakedstem sunray (Enceliopsis nudicaulis)
Dwarf yellow fleabane (Erigeron chrysopsidis)
Desert yellow fleabane (Erigeron linearis)
Shaggy fleabane (Erigeron pumilus)
Aspen fleabane (Erigeron speciosus)
Parsnipflower buckwheat (Eriogonum heracleoides)
Sulphur-flower buckwheat (Eriogonum umbellatum)
Common woolly sunflower (Eriophyllum lanatum)
Showy goldeneye (Heliomeris multiflora)
Fernleaf biscuitroot (Lomatium dissectum)
Gray's biscuitroot (Lomatium grayi)
Barestem biscuitroot (Lomatium nudicaule)
Nineleaf biscuitroot (Lomatium triternatum)
Sagebrush false dandelion (Nothocalais troximoides)
Royal penstemon (Penstemon speciosus)
Yellow bee-plant (Peritoma [Cleome] lutea)
Rocky Mountain beeplant (Peritoma [Cleome] serrulata)
Silverleaf phacelia (Phacelia hastata)
Scarlet globemallow (Sphaeralcea coccinea)
Gooseberryleaf globemallow (Sphaeralcea grossulariifolia)
Munro's globemallow (Sphaeralcea munroana)
Small-leaf globemallow (Sphaeralcea parvifolia)
Eventually the online book will include at least 98 forb species. Chapters are being developed in order of priority set by BLM personnel, based on the projected importance of each species for Great Basin sites in the greatest need of restoration. The list of species to be reviewed (not necessarily in order of expected completion date).
See also, the Revegetation Catalog for more information on using forbs in restoration.
For biology and ecology information on forbs not in the above list, visit the Fire Effects Information System website. For information on collecting, growing, and restoration uses of native forbs not in the above list, visit the PLANTS Fact Sheets/Plant Guides website.
Contacts:
Corey L. Gucker, Great Basin Fire Science Exchange and University of Nevada-Reno | 208.373.4342 | [email protected] | Boise, ID
Nancy L. Shaw, USFS Rocky Mountain Research Station | 208.373.4360 | [email protected] | Boise, ID